Keep Building Your Offerings, Your Self & Your Certifications
We're a "Yoga University" so all of our professional development offerings are 100% Tax Deductible as we are a Registered Educational Institution.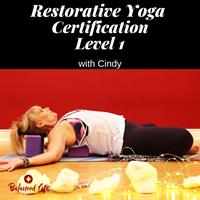 Restorative Yoga Certification I with Cindy
** In Studio or Virtual **
Saturday, May 15, 2021 from 9:00 am-5:00 pm
*New Date + Only 2 SPOTS!!!!
$349 each for Level 1 or 2  and $599 for both. Save $100! 
Restorative Yoga is one of the most popular styles of Yoga in the world, but it's more than just putting a bolster under your student's knees!
In the course you will learn how to:
Counteract the effects of stress + why Restorative Yoga is so powerful for this.

Improve your own re-covering practice through restorative postures and modification and be able to share that personal knowledge with your students .

Allow meditation and posture to create calming & de-stressing by creating brain experiences through restorative yoga

Creatively support all bodies in every posture by using props, walls, and floor. 

Increase health in the body, allowing people with injuries, stress or chronic pain to regulate and feel ease in mind & body

Use Restorative Yoga as a stand alone practice & how to effectively integrate Restorative Yoga posture into other Yoga practices
Knowing how to teach Restorative Yoga will give you the tools to welcome beginner students of all ages and physical states, and allow them to experience yoga in the safest way, and it's an essential tool for successful one-on-one privates too.
Upon completion of this course, you will receive a Restorative Yoga Teacher Certification – Level 1 through Balanced Life Yoga. 
Training counts as 8 hours towards Yoga Alliance Continuing Education or Balanced Life Yoga's 300 Hour Professional Development hours.
 Investment: $349 each for Level 1 or 2  and $599 for both. Save $100!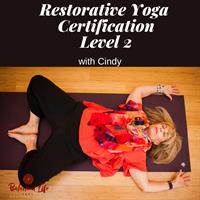 Restorative Yoga Certification 2 with Cindy
**In-Studio or Virtual**.      TWO SPOTS LEFT!
Saturday, June 5, 2021 from 11 am – 7 pm 
$349 each for Level 1 or 2  and $599 for both. Save $100! 
Become the Restorative Yoga expert in our Level 2 certification.
This level is the natural next step for students and teachers who have completed the Restorative Yoga Level 1 certification and want to learn more about intention session, meditation, sequencing and even more poses to add to your repertoire!
In the certification you will learn and understand:
The benefits of intention setting for each practice and working a meditation and sequence around said intention

How important counter poses are and how to incorporate them into your sequence and practice

How to activate relaxation response by meditation and sequencing

Restorative twists, backbends, forward bends and side bends and inversions and study all benefits.

How to introduce standing restorative postures and there grounding capabilities + effects.
Training counts as 8 hours towards Yoga Alliance Continuing Education or Balanced Life Yoga's 300 Hour Professional Development hours.
Regular Investment: $349 each for Level 1 or 2 and $599 for both.
The Sacred Circle Begins May 2021 for Women who feel called to something eternal, vast and magnificent.
Feel Ritual, Rhythm + The Land
Calling You?
Won't you answer the call…
If you are craving a new embodiment experience and next-level training that is rooted in movement, ritual, meditation and feminine energy, this is for you.
Learn Indigenous Land Rituals, Sacred Goddess Rites and Yogic Embodiment to unleash your Yoga Medicine Woman. 
Perfect for this time!!
This is a combination of virtual training and in-person rituals and ceremony.
Virtual Group Training with Shasta begins Thursday, May 6 – Thursday, June 17 (7 weeks) from 7:00-9:00 pm eastern. (14 hours total)
Online Modules – Access to Online Modules including class outlines, rituals and altar practices available May 1, 2021 (10 hours total)

In-Person Medicine Wheel + Fire Ceremony Training

at Heart's Acres (Shasta's property in Grafton, ON) is Saturday, June 19 from 10:00 am – 4:00 pm (if permitted, otherwise it will be broadcast via livestream).

Personal Practice – An additional 5 hours of individual ceremony practice required at your home.
35 hours of Cont.Ed with Yoga Alliance and Balanced Life Yoga. 
This is for women at any stage of Yoga practice and teaching, and newbies to Indigenous Teachings, Feminine/Goddess Wisdom and Land Healings are 100% welcome!
Investment:
Early Bird – SAVE $1,000 >$999 full pay or 4 payments of $300. Expires April 15, 2021
Regular Investment – $1,999 as of April 16, 2021.
Students can bring these teachings into future classes, workshops, retreats and also their own personal experience as a woman. 
There is a massive hunger for these teachings, and women who can provide them with ease and integrity.
Won't you answer the call…
The return on investment will be 100x this!  
Register Now. Limited Space. 
Shasta Townsend is 
Cree/Metis
and can trace her bloodline to the buffalo hunters and Plains Indigenous who honoured and lived harmoniously in the Grasslands of Canada for 14,000 years. She is also a Shakti Tantra Sacred Feminine Wisdom holder, and an international writer, speaker and expert in Sacred Feminine and Embodied Arts and has been featured in The New York Post, Cosmopolitan, Thrive Global, Elephant Journal and more.
She shares the Medicine Wheel teachings, Sacred Feminine and Land Teachings in this unique training that forges the many Womanly Wisdom Paths. 
Don't miss this! 
Reiki 1 Certification with Helen
Friday, May 28, 2021 from 9:30 am-5:30 pm 
Now is the PERFECT time to learn how to raise your vibration and thus boost your immune function!!
The focus of Reiki Level I is on self-healing as you learn how to take healing into your own hands and helping others including friends and family as well as animals & plants. 
the Traditional Usui Shiki Ryoho History & origins of Reiki,

the Reiki Principles for living well and healing

the energy centers, the Chakras and how to balance them

The Reiki cleansing & grounding techniques for self-healing and potential

The hand placements for self and others,

And we will include time to practice hands-on healing (no touch)

You will also receive an Attunement and a Reiki Manual and Certificate.
This training will be held in the studio and we will practice physical distanced healing practices. 
*Training counts as 8 hours towards Yoga Alliance Continuing Education or Balanced Life Yoga's 300 Hour Professional Development hours.*
Cost: $199 + HST.

Reiki II Certification with Helen
SOLD OUT – Call 905-428-2300 for waitlist.
Friday, June 11, 2021 from 9:30 am – 5:30 pm
At this level we focus on the intuitive awakening of your energy x1000!!!
Learn the sacred symbols of healing and creating as well as "energy accountability", Spirit Guides, and dive into your own Aura as well as the use of pendulums, crystals & the chakras. 
To top it off you will also learn how to be a conduit for distance healing as you learn to send Reiki through time and space!!!!!
Upgrade your energy field x 1000 as you receive an Attunement which includes two symbols traditional & non-traditional for massive power and healing. 

Gain a deeper and more powerful understanding and practice of energy medicine.

We will include time to practice a hands-on healing and experience a group healing.

Receive an in-depth manual and a certificate!
This training will be held in the studio. Limited spaces. 
Training counts as 8 hours towards continuing education or Balanced Life Yoga's 300 Hour Professional Development hours.
Cost: $299 +hst 
Intuitive Reiki Master – Level III with Reiki Master Helen Mason
NEW DATE – 1 spot left!
Sunday, June 6, 2021 from 9:30 am-5:30 pm
This level holds deep personal growth, transformation & increased enlightenment for those who are called.
As well, if you are called to truly hold the light and the integrity of Reiki as a teacher and a master then this training will give you the tools and foundation to do so with ease and power.
You will learn how to receive the Master Symbols in mind, body and spirit as well as the traditional purpose and responsibility of the Master Symbols.
You will learn how to create and maintain healthy boundaries and energy exchange as well as learn more about right action and also the power of crystal healing.
Finally, the certification program includes demonstration and practice in the Attunement of others into the path of Reiki.
You will receive an Attunement and a Reiki Manual and Certificate.
$500 +hst.
100% Virtual + Online Courses
Certification Programs for Everyone
Yoga for Anxiety Relief
Certification
$599 NOW $299 CDN
Yoga Tools to Relieve Anxiety In Yourself and Help Your Students
Learn Yoga "Therapy" techniques that provide major stress relief and increase overall vitality and self-confidence. Plus, learn tools to provide anxiety relief to students -both in private therapy sessions and in group classes. 
This course is useful for:
• Therapists and counsellors seeking proven holistic methods.
Wellness Coaches and Mentors who wish to share medication-free techniques with clients
• Students at any level who experience anxiety or are close to someone who lives with anxiety.
• Yoga teachers and yoga therapists who want to learn to manage their own anxiety symptoms and gain insight and tools that can be shared with their students.
This 20-hour certification is an online program that is easy to follow, comes with an extensive manual,  AND you will have access to all the trainings
You will gain a deeper understanding, and learn:
How to approach anxiety from a Yogic Perspective and a Neuroscience Understanding…
What Yoga Sequencing, Practices and Postures to include and what to avoid…
How to structure Private Yoga + Therapeutics for students with anxiety, and what not to do…
Mudra, Mindfulness + Mantra Practices specific to creating a calm mind.
This counts as 20-hours towards continuing education.
Purchase the course and full access to online training and
course materials will be sent to you via email.
Only $299. Regularly $599. SAVE $300 for a limited time!!
Yoga Nidra Training + Certification
$399 NOW $199 CDN for Virtual Training
Learn how to effectively teach the ancient and powerful practice of Yoga Nidra (Yogic sleep) and other deep rest practices that will literally change the brains of your students and support them in deep restoration.
Yoga Nidra is a practice that can be added to group classes, private classes, taught in workshop or retreat settings and is an essential skill for yoga teachers to have, especially now as the world gets crazier.
Shasta will share her two decades of Yoga Nidra experience
You will learn how to teach a 90 minute, 20 minute and 10-minute version of Yoga Nidra.
Understand why Yoga Nidra is an ancient practice that literally changes the brain waves, helps us taps into Universal Consciousness and get some deep rest and release.
This is your chance to learn how to create this for yourself and your students.
4 hours toward 300-Hour Continuing Ed with Balanced Life Yoga and also Yoga Alliance.
$199 + HST
Discover Your Dosha & Balance It – Ayurveda Certification Level 1
$399  NOW $199 for Virtual Training
Do you know your DOSHA?
Your unique constitution or "dosha" may explain many of your physical, psychological and mental attributes. It comes from the ancient sister science to Yoga, Ayurveda.
Knowing what dosha you are as well as how to keep it in balance leads to more harmony and joy in your life!
Join us for a unique and informative workshop certification that will help you discover your unique Ayurvedic constitution.
You will learn how to determine your dosha and the doshas of those you love through 3 different assessment tools.
You will gain a deeper understanding of your own energetic, physical and mental self as seen through Ayurveda and thus understand and feel empowered.
In addition, learn how to stay balanced in your dosha  through specific foods, yoga asanas, breathing and cleansing techniques for optimal health and wellbeing.
You'll also gain an understanding of Ayurveda as a system of personal health and wealth that places a focus on you as the individual and your unique magic, rather than the reductionist and mechanistic view of allopathic medicine.
Workbook, dosha analysis, live learning and recording included!
Counts as 3.5 hours of Cont.Ed 
This is a great learning for everyone interested in gaining more personal power, health and wellbeing. Also, a great training for yoga teachers and yoga teacher trainees to understand how Ayurveda can be applied in your classes.
Shasta Townsend
Shasta Townsend studied Ayurveda in India from an Ayurvedic Doctor and is trained in Ayurvedic analysis, massage and asana and diet.  In addition to being the creator of Balanced Life Yoga, she brings 20 years of health experience in these practical and entertaining learning experiences.
Investment: $199 for Virtual Training
The world of Yoga and Fitness teaching has changed forever!!  
Join master teacher and trained journalist, and experienced "camera woman", Shasta Townsend for an insightful training that is just what this time calls for!
Whether you're a Yoga teacher or fitness instructor, you'll feel confident, authenticity + clear, and you'll learn to "own" any room or livestream by what and how you're saying and being…
Since over 90% of how we communicate in a small or large group class is through words, it is necessary that you know to use your words wisely.
In this new era of livestream, video and Zoom, you must also learn how to:
Talk to the camera and be engaging
Translate not just words, but energy and feeling.
Engage people as a group and individuals virtually.
Mitigate distractions for them and help people remain focused.

Be the teacher that newbies feel comfortable + confident with and advanced practitioners flock too, all by mastering what comes out of your mouth!
Set yourself apart from the Yoga-teaching pack and learn:
The poor speaking habits (you don't even know you are doing) that are distracting students and sabotaging your success
How to unleash your authentic voice, so you can feel totally confident and no longer doubt yourself
The secrets to owning your power in person and on livestreams so you are a magnetic teacher.
How finding + owning your voice will attract more students.
Build confidence with tech, virtual classes and livestream events.
This training is perfect for:
new teachers who want to hone in on their confidence and master this necessary skills
established teachers who want to break subconscious bad habits and take their teachings to the next level.
recent teacher training grads who wish to improve their cueing, confidence and even on-camera skills.
Shasta Townsend is a master teacher, and brings her two-decades of teaching knowledge both in person and on-line to give you the best practices. In addition, she has a background in media, broadcasting and on-camera work that will shed precious insight on how to be successful in online, virtual and even social media lives.
Training counts as 4 hours towards Yoga Alliance Continuing Education or Balanced Life Yoga's 300 Hour Professional Development hours.
Purchase the course and full access to online training and
course materials will be sent to you via email.
 $149 + hst.  Get it now 
How to Get Started Teaching Yoga

Successfully

 Online Course with Shasta Townsend
Instant, lifetime access
This proven step-by-step blueprint is the missing link to go from trainee to teacher.
You want to STOP procrastinating and start sharing your passion.
You want a proven step-by-step system of success.
You are an action taker and can follow instructions to succeed.
You KNOW you are a Creator with lots to share
The modules in The How to Get Started Teaching Yoga course include:
8 Easy to Follow Online Modules – you can complete them on your own time so there is no pressure, but you also receive all you need to be a success!
Bonuses – We have Bonus Materials to help you create momentum and success including how to Leverage other companies like Lululemon, etc.
Support – You will also become a part of our close community of yoga-preneurs where you can seek support and meet amazing people
Training counts as 15 hours towards Yoga Alliance Continuing Education or Balanced Life Yoga's 300 Hour Professional Development hours.
TBA Offerings – Standby 🙂
Advancing the Practice Through Movement, Stability + Strength
with Shasta. 
* in-studio or virtual 
As teachers and practitioners, a sustainable, life-long yoga practice is something we all desire.
Combining yogic wisdom with science-based movement (such as biomechanics and kinesiology) is a great way to ensure a balanced, health-affirming experience on the mat! This module will offer clear, practical ways to increase stability, mobility and strength in the practice of yoga. You will broaden your knowledge and perspective, drawing from movement science to help you connect with yoga in a whole new way.
• examining where classical asana meets scientific research and how to incorporate best-practices into your teaching and practice
• dispelling myths and misinformation around core training, and understanding the core from a functional perspective
• strengthening core movements, postures, and sequencing for a core yoga class
• creative, effective ways to incorporate basic props and tools into class (blocks, blankets, bolsters, bands, straps, light weights)
• corrective exercises, asana, breathing and lifestyle changes to prevent pelvic floor disfunction
• learn how some postures can be used as assessments revealing weakness, compensation or limitations
• improve accuracy in cueing and learn creative ways to include whole-body strength and stability in your classes and private sessions
This knowledge will take your teaching to the next level, and allow you to help your students find true balance through yoga.
$599 + hst. Counts as 20-hours of continuing education.
Mentorship + Practicum for Teaching Success with Shasta (virtual)
5 weeks to confidence, excellence and YOUR success…
This is a PRACTICAL and real-world learning experience!
Mentoring with a master is the most VALUABLE investment you can make.
Yoga pioneer and master teacher Shasta Townsend has created a 5-week mastermind program for new teachers or teachers who want to 10x their success.
You will learn how to teach with increased clarity, confidence and safety.

You will learn how to speak eloquently and sequence like a rockstar.

In addition you will feel more confident, creative and inspired.
Join a small group of like-minded people improving their teaching skills.
This is a practicum so you will be advancing your skills not just theorizing.
We will dive into and refine your skills each week.
Real life practice will give you confidence and also the experience which you an also add to your resume!!
Harmonious Success – Spiritual-Based Money Mastery for Yogis with Shasta. November 20-22, 2020 * in-studio or virtual 
Are you not tired of worrying about money?
Struggling with money, fear of not-enough and hording of wealth out of fear are plagues that STOP your greatness and your success.
It does not have to be this way, and is not meant to be this even…even now!
We are actually in a time of great opportunity and abundance, but the old ways you think about money have to go. 
Yoga entrepreneur and feminine business leader, Shasta shares two-decades of  money mindset mastery rooted in spiritual understanding and Universal Laws as well as Yoga "business" success principles that create more ease and financial success. 
Think about money accurately and remove fear and worry.

Harness Universal Laws including The Law of Manifestation. 

Heal outdated beliefs about money, success and Spirit and thus feel FREEDOM

Apply Universal Success Laws to your life and business to create with ease.

Be the TRUE radiant you and magnetize your ideal students.

Create from your true heart and soul purpose to be in real service to the world.

Master your own Money Mindset
This module is a truly innovative and spiritually-focused approach to success unlike anything you have experienced before!
$599 +HST (but priceless!!!)
20-Hours of Continuing Education 
Understanding the Mind + Mastering Meditation: Practices for Stress Reduction, Mind Mastery + Emotional Balance
with Shasta. December 4-6, 2020
* in-studio or virtual 
In this time of uncertainty and STRESS, one simple truth is becoming clear >> We must master our own mind!!!
For answers to life's most profound questions we must look to Yoga's meditative teachings.
Meditation is a powerful tool and this module offers a unique opportunity to experience the deeper wisdom of meditation for daily peace, deeper insight and spiritual transformation + know how to teach it!
• The Path of Meditation – What meditation truly is and why it is necessary as well as the many techniques + practices.
• Neuroscience + Brain Biology – including what brain waves do + how to influence them, areas of the brain that create fear + anxiety and how to calm them and the real connection between brain + body
• Biochemistry + Body – How to overcome "addictive" stories by understanding biochemistry so that you and your students can "feel" different and literally create a new body and new life
• How to choose an appropriate focus for meditation and various techniques including mantra, japa, insight and vipassana (we will practice them all)
• Teaching Meditation – you will learn the Principles for developing meditative practices + how to teach them in any class with ease!
Students are craving new ways to create their brain (overcome anxiety, depression + insomnia) + live a life that is both powerful and easeful, and this module will give you the skills to teach them HOW to do just that.
20-hours of Continuing Education
How to Teach Beginner Yoga Certification with Cindy
Whether you are teaching Beginner Yoga or just students who are new, you must have the wisdom to ensure that students feel safe, confident and keep coming back.
Newer students may have a huge host of injuries and limitations so they often require modifications and assists that are specific to their needs.
In addition, having the skills to effectively teach beginning students not only gives you powerful confidence as a teacher, but also opens up a huge range of possibilities for additional classes and income as a teacher.
Training counts as 8 hours towards continuing education or Balanced Life Yoga's 300 Hour Professional Development hours.